TAS Golden Flipper Butterfly Challenge Announcement
September 27, 2021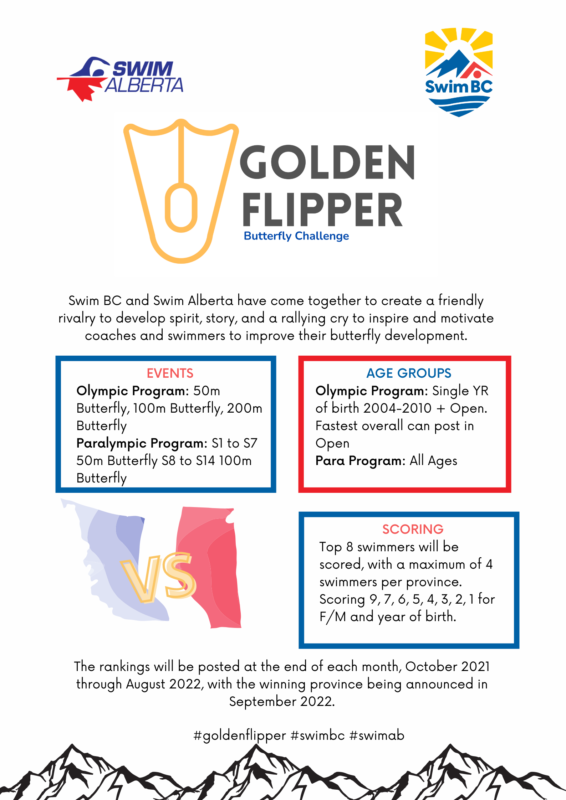 Swim BC and Swim Alberta have come together to create a friendly rivalry to develop spirit, story, and a rallying cry to inspire and motivate coaches and swimmers to improve their butterfly development.
The challenge is open to all fully registered swimmers in the competitive category in their respective provinces. Paralympic swimmers must have a Level 2 classification. Olympic Events include the 50m, 100m and 200m Butterfly. Paralympic Events include S1 – S7 50m Butterfly & S8 – S14 100m Butterfly.
"We are aiming for novel ways to capture excitement and interest in swimming fast through all of the age groups.", Dr. Stephen Norris, Swim Alberta's Performance Technical Director explained. "It's highly competitive and friendly fun rivalry between the provinces. It's meaningful competition that raises the stakes with an edge to it. I can only see this growing."
Butterfly development was chosen to build on underwater dolphin kicking as well as basic butterfly techniques.  It is easily the weakest stroke in our country and BC & AB want to build strong swimmers with skills that will advantage Canada in future international competitions.
"The Golden Flipper Challenge is an innovative initiative designed to re-engage our swimming community.", Cory Beatt, Swim BC's Technical Director said. "Swim BC is looking forward to this challenge with Swim Alberta and to developing a healthy rivalry between our two provinces."
Rankings will be posted at the end of each month from October 2021 – August 2022. The winning province will be announced in September 2022.
Both Directors are excited about the friendly challenge between the provinces and shared their words of encouragement.
"Swim Alberta is a worthy rival and Swim BC will require its collective efforts in this challenge." Cory Beatt said, "[The goal is] keeping the WEST the BEST. Good luck to all participants from Alberta and BC."
Steve shared Alberta's pride is on the line' and every swimmer can be a part of this challenge. "Eventually [this will lead us to] contributing to future Canadian performances on the world stage".
Swim BC is the provincial governing body for competitive swimming in British Columbia (swimbc.ca) and Swim Alberta is the governing provincial body for Competitive Swimming in Alberta (swimalberta.ca).
Good Luck Swimmers!