Laon Kim wins Sport BC High School Athlete of the Year
March 13, 2023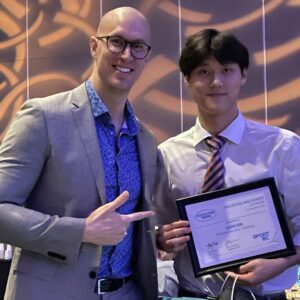 On March 9th, 2023, Sport BC celebrated the 55th Annual Athlete of the Year Awards. We are proud to announce that Laon Kim of Hyack Swim Club received the High School Male Athlete of the Year award!  This award recognizes a male athlete who was enrolled in a secondary school in the province of BC and demonstrated extraordinary athletic performance in either the 2021 or 2022 season. Congrats Laon on this incredible achievement!
We would also like to recognize Brent Hayden for his nomination for the Senior Male Athlete of the Year award and for sharing his experiences with Laon during the celebration.
Thank you for representing Swim BC and the BC swimming community!