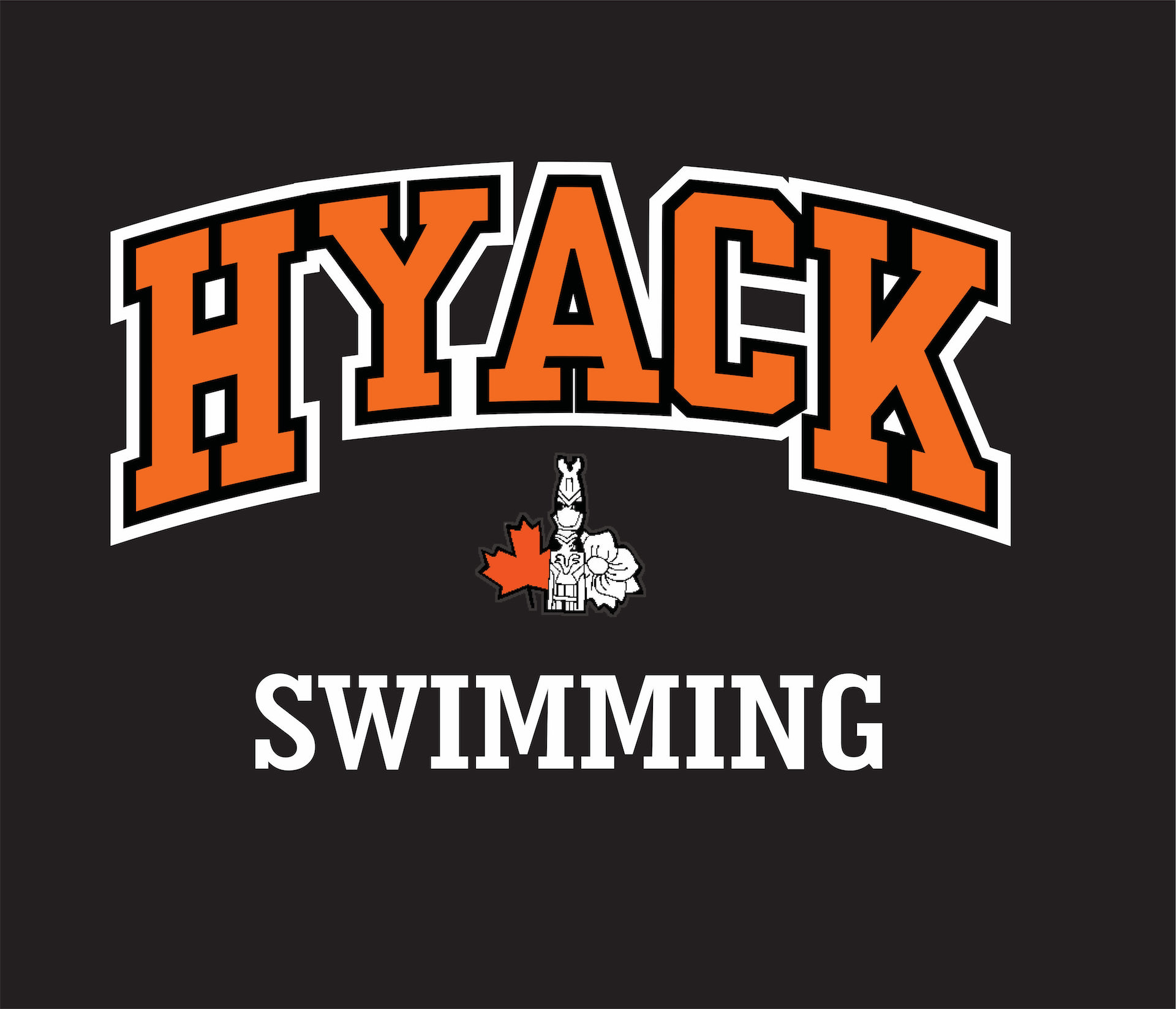 What Did it Take? How Hyack Swim Club Grew Two National Record Holders
October 30, 2020


The 2019-2020 competitive season was anything but ordinary. For many, the season was cut short and leaving many swimmers unable to achieve the goals they had planned for the season. However Hyack swimmers, Peter Huang and Paul Orogo still managed to break National Swimming Records. We asked them, What did it take?
Peter Huang
People often ask me, what did it take?  The practices were hard every day, but every day I would work harder and smarter. I would get very close to my best time in practice, which meant that I could potentially go much faster during meets. I often got my best times at meets when I had someone to race against, but most of the time it was just me swimming by myself. As my grandma always says to me, "there can only be one winner and you have to work hard to achieve that."
Another common questions is, what was my worst set? It was easily 10*400 Free on alternating intervals of 5:00 and 4:30, with the last one being under 4:10. This workout always pushes me, and it is never easy. Every time it came by, I knew I would suffer. During this set, I was always reminded by my coach, Mark Bottrill, to have more efficient instrokes to the wall, quick turns, and be faster off the walls. My strategies have also changed drastically, from sprinting as much as I could then dying the rest of the way, to pacing it out and making it more even per 100m.
There were of course, many ups and downs for me while I tried to get the record. The downs meant missing the record by a little. My first attempt was for the short course national record. The first time I ever came close to making this record was when I raced a swimmer who was much faster than me. I had paced off of him during prelims because I know that most people slack prelims, setting me up well for finals. This allowed me to get to 3:59.30 in the morning session. Even though I was sad that I didn't get the record, I was determined to come back that night and break it. I was motivated by the time I swam that morning, and I got behind the blocks to get ready. I swam as hard as I could. During the race, I tried to look at the clock to see if I was on pace, but I couldn't see the clock, so I just stuck to swimming as fast as possible. I finished the race to a total disappointment when I saw the clock; I had missed the record by 0.33 seconds. I was totally in shock, getting very emotional knowing that it was my last go at the record. It was absolutely my worst nightmare and I often replay that scene in my head.
Long course season began and knowing that I missed the short course national record, I came back stronger than ever to attempt the long course national record. I remember that day at the meet, I was nervous to the point that I was doubting myself. It came down to just me and Adam from Surrey Knights swimming side by side until the very end where I was no longer able to pull the last 15m sprint. I was exhausted to the point that I could barely see the wall. I finished in second place a few seconds behind Adam and the only thing I could think of was that I hoped that I didn't miss the record again. Taking off my goggles to look at the clock I saw my time and I was no longer the hopeless swimmer lost in the void. I was the happiest man alive: I just broke the record by a solid 1 second. I knew that all the hard work, hard sets, and hard pushes I had in practice had paid off.
I knew that working hard again and again allowed me to succeed. After all, I know my strengths and my weakness, and I try to play into my strengths which allows me to thrive and get past any hard practice or challenge that I face.
From Peter's coach, Mark Bottrill:
When we set Peter's goals at the beginning of the year, it was my intention to bring to Peter that the 400 Free short course and long course national records for 13-14 boys were within his reach.  As it turned out, I didn't have to mention it, he told me he was going for them.  I also thought he had a shot at the 800/1500 records as well long course, but unfortunately the pandemic put a stop to that.
Peter has always trained well. However, he equates the difficulty of sets with the physical demands more so than the technical demands. I developed consistent sets that he could improve on in both his ability to embrace the work and the technical side at the same time. He mentions the 10*400 set as one of them, and it truly became one he embraced even though as he said it was a tough set.  He made it tough, as he crushed it the first time we did it and so when it reappeared in the cycle, he knew he was up against some pretty solid times from before. We kept track of how he lapped the set and his stroke counts, watched the turns, and just moved everything ahead. When he missed the record short course the first time, he swam the race with little attention to those technical elements and that was the primary reason he fell short. He needed to maintain momentum better to help with the efficiency in the back end of the race. The turns were especially a big part of it.  When he went after it a few weeks later at the Richmond Fast Swim, he certainly controlled himself more, yet the result while better was still short. He was upset that he missed it but we turned it into a learning moment and drew back to where he still needed to improve in his workouts. The next chance was Winter Provincials (Long Course). Less turns obviously but swimming a 400 long course without too many chances to do so prior could be an obstacle. We had changed some of the parameters in the weekly cycle to emphasize the challenges on our long course practice days, and that proved to be beneficial. I think the patience and commitment Peter displayed over the four months from the first attempts to improve not only the 400 but also get his speed up was exemplary.
Paul Orogo
Many swimmers dream of breaking big records like national records, for me it actually came true. As a young kid finishing elementary school and moving into higher level groups in swimming, I didn't think that I would make any big achievements like breaking a national record. But as the weeks passed from when I first moved into the higher group, not only did I realize I could do it but others like my family, friends and teammates saw that I had a potential to break some of these records as well.
After realizing I had something to work towards achieving, I began to prepare myself for the sets ahead. A season plan indicating my time goals was laid out with Coach Andrew "Lenny" Lennstrom. I had to be in my best mind set so I could achieve my goals. My preparation consisted of training and spending more time swimming than others. Even after practices, I would go home to workout out more mentally and physically. I've worked hard physically by doing workouts like calisthenics, weights and playing basketball at home.  While mentally, I watched videos of myself swimming to review the pros and cons, so that I could improve the next time I swam. Some days, I would cross train and do other sports that help with swimming, like basketball which helps with my explosiveness off from the blocks, soccer and track which help with my leg strength likewise, cross country which helps with my endurance. All of these are already a lot to do on a regular basis, yet, the tiredness did not matter, because these give me a lot of advantages in sport and to build my healthy lifestyle.
How did I meet my goal asides from training? Well, in and out of the pool, I had my supporters like my family which dedicated their time to keeping me healthy and supporting me in whatever I do. My friends, who believed that I could someday become an Olympian. My teammates, who kept pushing me more and more during practices to make me stronger mentally and physically and of course my coaches, who instilled in me a distinct kind of discipline, determination and hard work which paid off at the end of every swim.
How did I know that I achieved something great? When I broke the national records and provincial records, everyone congratulated me for my achievements, but one particular moment has stuck with me. It was during one of the local meets, a kid who was bit younger than me, came up to me. He told me that I was his idol and that he looked up to me. This one statement got stuck in my head, and it inspires me to do more and be the best I can be. Overall, I will never forget this wonderful experience in achieving greatness – record breaking in my age group.
From Paul's coach, Lenny Lennstrom:
Paul has been a benefactor of a training group who's goals have slowly evolved from best times, to club records and now to provincial and even national records. Early on when he moved into our Age Group development group he was able to train and race against teammates who had been a part of breaking club, provincial and a handful of national records either individually or as part of relays.  This competitive dynamic in practice helped change the idea of what is possible. No question he wanted to swim fast; this was indicated in his goal sheets for the year. Usually I have to give the goal sheets back as swimmers usually underestimate what they are capable of and don't want to set a goal too high in case they fail. This was not Paul. I had to take a second glance at some of his goals. In the end, he was actually extremely disappointed he fell short of a few of his goals. I had to make sure to remind him it was ok and that I didn't want to let him turn a positive into a negative just because a record was not achieved. A big part of the process was to set his goals high and enjoy the process of chasing them. In doing so he became an important part of 4 National Record Relays on his way to 2 Individual National Records in the 100 and 200 Back.  Now that he has aged up, it is time to adjust his goals and enjoy the pursuit of a new challenge.
Swim BC is proud to have these 2 swimmers as representatives for BC Swimming and can't wait to see where their swimming careers take them in the future.