Safe Sport is a program developed by the Coaching Association of Canada (CAC) that works to ensure that every athlete can participate in their sport without physical, sexual, or psychological abuse. Swim BC is mandated to make Safe Sport available and we enthusiastically recommend that everyone involved with competitive swimming take the training course. More information is available below and at
Safe Sport Training
.
Swim BC Safe Sport Policies
Swim BC has a number of Safe Sport Policies that can be found on the Swim BC Policies page.
Sport Law Connect Program (SLCP)
Created by the Sport Dispute Resolution Centre of Canada, this is a free resource that connects people with law students or professionals who are trained in the resolution of sport disputes. In BC, this program is in partnership with viaSport, the University of British Columbia, the University of Victoria, and the Alternative Dispute Resolution Institute of BC (ADRBC). For more information or to submit a dispute, please visit viaSport.
The Canadian Sport Hotline
The Canadian Sport Hotline is a third-party service provider whose role is to address harassment, abuse, and discrimination complaints. This hotline provides a safe place to report and can also provide advice and resources on how to intervene and/or proceed appropriately.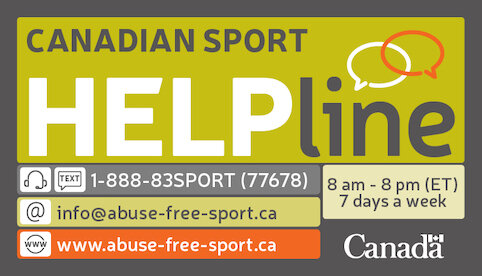 Swimming Canada Safe Sport Resources
Swimming Canada's Safe Sport program focuses on education, prevention, and response, which is supported by strong governance, policies, and procedures. The Swimming Canada Safe Sport page also contains the contact information for their Safe Sport Officer, who is an independent third party who will guide you through the complaints process and/or explore other options. Swim BC gratefully acknowledges the financial support of the Province of British Columbia.
Address
104-4430 Chatterton Way
Victoria, BC V8X 5J2