Safe Sport is fundamental to the work that Swim BC does every day. Everyone participating in swimming has the right to enjoy sport in an inclusive environment that is free of abuse, harassment or discrimination. All participants are welcome and should be able to strive for their personal goals without boundaries. Swim BC is working towards a culture that encourages open communication and educational opportunities.  
Swim BC Safe Sport Policies
All Swim BC Policies can be found on the Swim BC Policies page.
Swim BC Criminal Record Check Process
Volunteers
With a renewed Screening and Criminal Records Check Policy, Swim BC now requires certain club volunteers to provide CRC's.  Like all organizational policies, it is the club's responsibility to adhere to Swim BC policy.  Therefore, it is the club that is responsible to present to Swim BC a list of volunteers that, according to our policy, will require a CRC. Once this list is presented to Swim BC, the CRC's we received will be monitored against that list. Please note that volunteer CRC's are free of charge through the Criminal Record Review Program.
Individuals who work closely with children and vulnerable adults, who occupy positions of trust and authority within a member club are expected to submit a Criminal Record Check. This includes team managers, chaperones, and registered Level 3,4 & 5 Officials.
The process to submit a Volunteer Criminal Record Check to Swim BC is as follows:
Fill out the Volunteer Criminal Record Check Form. This notifies Swim BC to anticipate a Criminal Record Check from the Volunteer and ensures we match the results with the correct individual.
Submit a Criminal Record Check application through the Criminal Record Review Program. You will need the Swim BC specific access code which will be circulated separately.
Swim BC will receive a Clearance Letter from the CRRP, which indicates whether the volunteer poses a risk to the organization. We will keep a record of who has submitted a Criminal Record Check to Swim BC and these checks will be valid for 5 years. If the volunteer works with multiple clubs or transfers clubs within the 5 years, they do not need to resubmit a Criminal Record Check to Swim BC.
Only individuals with relevant offences that required adjudication will be informed of their Criminal Record Check status (see Policy, Section 6 – Relevant Offences). If a club needs to verify if a Volunteer has completed a Criminal Record Check, please reach out to Sam Thoms. She will be able to verify if Swim BC has received a Criminal Record Check from that individual.
Coaches
All registered coaches must submit a Criminal Record Check through the Criminal Records Review Program (CRRP). Criminal Record Checks are valid for five years. You will need a Swim BC access code which will be circulated annually, you can reach out directly to Sam Thoms if you haven't received it. Instructions are included with the Access Code, but please be sure to read each step carefully when going through the system.
This process can take two weeks or more depending on the volume of requests. Please ensure that you take processing time into account before you start your coaching position. If you have done a Criminal Record Check through CRRP in the last five years, you can share that Criminal Record Check with Swim BC by clicking "Share Results of a Completed Criminal Record Check."
Safe Sport Training for Coaches
All Coaches registered with Swim BC are required to take Safe Sport training. The following courses can be used to meet that requirement. If you are a Volunteer or Parent, these are also great courses to learn about Safe Sport.
Coaching Association of Canada Safe Sport Training
Safe Sport is a program developed by the Coaching Association of Canada (CAC) that works to ensure that every athlete can participate in their sport without physical, sexual, or psychological abuse.  More information is available below and at Safe Sport Training.
Respect in Sport
The Respect in Sport Activity Leader program is an on-line training course for coaches, sport leaders and leaders of youth in virtually any activity. The course is primarily designed as a tool to assist leaders to identify and respond to abuse, neglect, harassment, and bullying.
The Canadian Sport Hotline
The Canadian Sport Hotline is a third-party service provider whose role is to address harassment, abuse, and discrimination complaints. This hotline provides a safe place to report and can also provide advice and resources on how to intervene and/or proceed appropriately.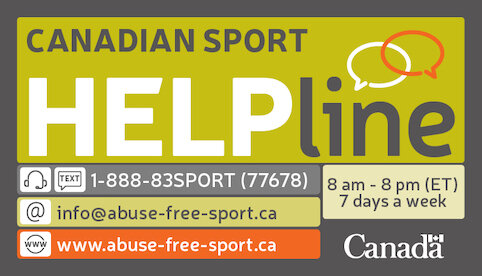 Swimming Canada Safe Sport Resources
Swimming Canada's Safe Sport program focuses on education, prevention, and response, which is supported by strong governance, policies, and procedures. The Swimming Canada Safe Sport page also contains the contact information for their Safe Sport Officer, who is an independent third party who will guide you through the complaints process and/or explore other options. Swim BC gratefully acknowledges the financial support of the Province of British Columbia.
Address
305-4420 Chatterton Way
Victoria, BC V8X 5J2