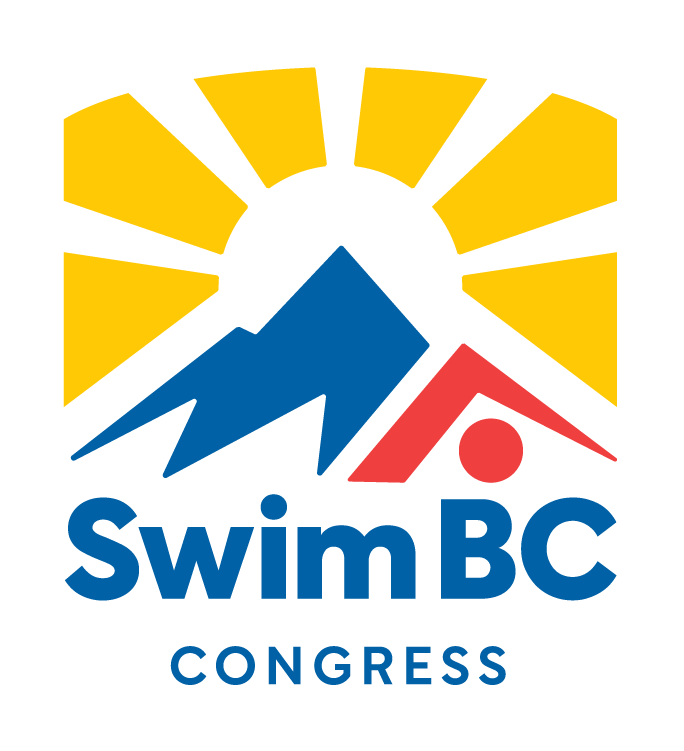 Swim BC is driven by a vision of striving to develop, deliver, and promote services and programs aimed at enhancing all members competitive swimming experience in the province. Our organization exists to ensure that every swimmer has access to quality coaching and officiating, a suitable range of competitive opportunities, and above all, a safe and fun swimming environment.
The BC Swimming Congress brings together club leaders who work together to enhance the quality of swimming in British Columbia. The Congress strives to develop an environment to stimulate ideas, learn effective organizational leadership, and to celebrate of our successes. Through knowledge sharing, the Congress helps to build and maintain networks while identifying opportunities for innovation.
The Congress's objective is to foster connection, understanding, creativity and progress among members and stakeholders, to build a more collaborative and resilient system where the sport is aligned and working together to address barriers, and strive towards quality programming.
---
2023 CONGRESS – CULTIVATING CLUB EXCELLENCE
The sport environment in Canada is complex and changing rapidly.  Evolving towards a modern 21st century sport environment from both an applied coaching perspective and a resilient management and governance perspective is critical to our future successes.  Maximizing our strengths and time spent in pursuit of our collective personal bests is the pursuit of club excellence.
MEET OUR SPEAKERS
Dina Bell-Laroche – Sport Law
Cheryl Humphrey – Sport Law
Steve Indig – Sport Law
Ryan Mallette – Head Coach, Swimming Canada HPC – Ontario
Carl Simonson – Assistant Head, Coach University of Calgary Swim Club
Scott Talbot – Head Coach, Swimming Canada HPC – Vancouver
Tom Vandenbogaerde – Performance Scientist, Swimming Canada HPC – Vancouver
Jennifer Hood – Owner & Director – Jump Gymnastics, S4L Champion
SCHEDULE AT A GLANCE
For the Full 2023 Congress Schedule, Click Here.
Thursday September 28, 2023
Conference Registration
Technical Program Presentation
BC Talks Panel Presentations
Welcome Social
Friday September 29, 2023
Team Aquatic Supplies BC Coaches Conference begins
Women in Coaching Luncheon
Saturday September 30, 2023
Team Aquatic Supplies BC Coaches Conference continues
Officials Committee planning session begins
Joint session for Coaches and Club Delegates with Sport Law
Swim BC AGM
Swim BC Strategic Plan
Team Aquatics Supplies / Swim BC Awards and Hall of Fame Banquet
Sunday October 1, 2023
Strategic Planning workshop for Club Delegates and interested Coaches
Officiating insights for Coaches
NATIONAL TRUTH AND RECONCILIATION – ORANGE SHIRT DAY
Saturday September 30th, 2023 is The National Day for Truth and Reconciliation. The Swim BC team will be wearing Orange Shirts to commemorate the significance of that day. For your convenience, we've provided two organizations for you to order your own orange shirt from.
https://nativenorthwest.ca/search.php?search_query=orange+shirts&section=product
https://kitandkaboodlewl.ca/products/2023-orange-shirt-society-t-shirts-and-hoodies
HOTEL BOOKING INFORMATION
Swim BC has secured a limited number of rooms at the Westin Whistler Hotel for $204 / night for the conference weekend.  We encourage you to book soon to avoid missing out on availability.
Individual Reservations: Group's attendees are responsible for making their own reservations by using the link below or by calling the Hotel's Reservations Department at 1-866-412-2864, or through email at reservations@westinwhistler.com.  
Booking Website:
https://book.passkey.com/e/50635541

Attendees should identify themselves as being part of Group, BC Swimming Congress September 2023 when calling. Swim BC gratefully acknowledges the financial support of the Province of British Columbia.
Address
305-4420 Chatterton Way
Victoria, BC V8X 5J2
Copyright © 2022, Swim BC. All rights reserved.